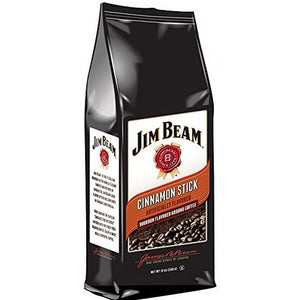 Jim Beam Cinnamon Stick Flavored Ground Coffee - 12 Ounce
Jim Beam
Regular price $11.99 Sale
Jim Beam Cinnamon Stick Ground Coffee is a delicious and flavorful blend of premium coffee and cinnamon spice. This coffee is inspired by the smooth and spicy taste of Jim Beam Cinnamon Stick Bourbon, which combines the flavors of spicy cinnamon and smooth bourbon whiskey.
The coffee is made from 100% Arabica beans that are carefully selected and roasted to perfection, and then blended with natural cinnamon flavoring to create a warm and inviting aroma. The taste is rich and smooth, with the perfect balance of cinnamon spice and coffee flavor.
This coffee is perfect for enjoying in the morning, as an afternoon pick-me-up, or as a dessert coffee after dinner. It pairs well with a variety of breakfast foods, pastries, and desserts, and can be brewed using any standard coffee maker. The coffee is packaged in a resealable bag to ensure freshness, and it is easy to prepare with just a few simple steps.
Non alcoholic.

One 12 ounce bag of ground coffee
Free U.S. Shipping on all coffee orders!