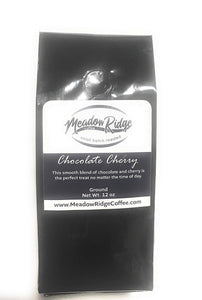 Meadow Ridge Cherry Chocolate Small Batch Roasted Coffee, Ground - 12 Ounce
Meadow Ridge Coffee
100% Arabica Coffee Beans FRESH ROASTED in small batches. Immediately packaged to preserve freshness and taste!

Cherry Chocolate flavored coffee


All of our fresh roasted coffee is small batch roasted right here in the USA by our expect coffee roasters. Their experience and pride creates a delicious blend and flavor we know you will enjoy.

Our freshly ground coffee comes in easy to open and seal 12 ounce bag

When roasting in small batches you can ensure a consistent roast, flavor and blend every time so that each bag you purchase will taste exactly the same!