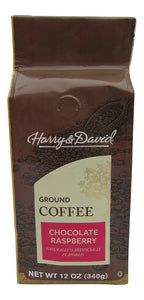 Harry & David Chocolate Raspberry Flavored Ground Coffee - 12 Ounce
Harry & David
Regular price $11.99 Sale
Chocolate Raspberry Flavored coffee

Medium Roasted and ground for easy brewing.

100% gourmet Arabica coffee beans.

Harry & David's flavored coffees feature premium beans harvested by hand, expertly roasted with care, and quickly air-cooled to maintain flavor and prevent bitterness.

Raspberry nuances add to the chocolatey richness to make this a perfect morning indulgence or decadent after-dinner treat.
Free U.S. Shipping on all coffee orders!