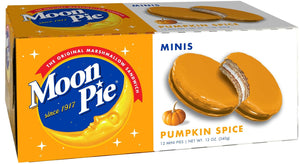 MoonPie Mini Pumpkin Spice Flavored Marshmallow Sandwich - 12 Count
MoonPie
Satisfy your sweet tooth with the delectable taste of MoonPie Mini Pumpkin Spice Flavor, a bite-sized version of the classic MoonPie snack.
The original Moonpie cookie sandwich now, available in pumpkin spice

These bite-sized snacks are perfect for snacking on-the-go, adding to lunchboxes, or as a sweet treat at any time of the day.



Made without high fructose corn syrup, these Mini Pumpkin Spice Flavor MoonPies are a tasty and wholesome snack option.
They are Kosher certified and come in a resealable package, so you can enjoy them anytime while keeping them fresh.
With their unique Pumpkin Spice flavors, Mini MoonPies are a fun and nostalgic snack that brings back memories of childhood.
Serve them at parties, share them with friends, or enjoy them as a quick and satisfying snack whenever you need a boost.
These MoonPies are perfect for anyone who loves the taste of bananas and chocolate, or for anyone looking for a fun and tasty snack option.
This item ships for $4.99 or FREE shipping over $49