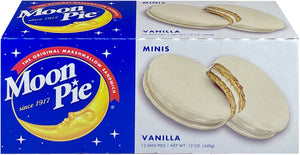 MoonPie Mini Vanilla Flavored Marshmallow Sandwich - 12 Count
MoonPie
Indulge in the sweet and creamy flavor of MoonPie Mini Vanilla Flavor, a bite-sized version of the classic MoonPie snack.
Each Mini Vanilla Flavor MoonPie is coated in a layer of smooth and creamy white chocolate on the outside and filled with a soft and chewy marshmallow center infused with the delicious flavor of vanilla.
These bite-sized snacks are perfect for on-the-go snacking, packing in lunchboxes, or as a sweet treat at any time of the day.
Made without high fructose corn syrup, these Mini Vanilla Flavor MoonPies are a tasty and wholesome snack option.
They are Kosher certified and come in a resealable package, so you can enjoy them anytime while keeping them fresh.
With their rich and creamy vanilla flavor, Mini Vanilla Flavor MoonPies are a fun and delicious twist on the classic MoonPie snack.
Serve them at parties, share them with friends, or enjoy them as a quick and satisfying snack whenever you need a boost.
This item ships for $4.99 or FREE shipping over $49