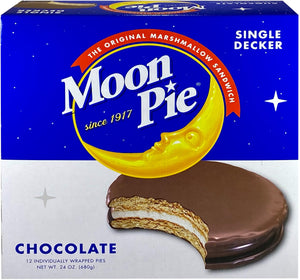 MoonPie Single Decker Chocolate Flavored Marshmallow Sandwich - 12 Count
MoonPie
Regular price $11.99 Sale
Satisfy your sweet tooth with the rich and delicious flavor of MoonPie Single Decker Chocolate, a classic snack that has been enjoyed for over 100 years.
MoonPie Single Decker Chocolate features a soft and chewy marshmallow center sandwiched between two crispy graham crackers and coated in a layer of smooth and creamy chocolate.
Made without high fructose corn syrup, MoonPie Single Decker Chocolate is a wholesome and satisfying snack option.
It is Kosher certified and comes in a convenient single serving package, making it perfect for on-the-go snacking or packing in a lunchbox.
With its perfect balance of chocolate and graham cracker flavors, MoonPie Single Decker Chocolate is a fun and nostalgic snack that never goes out of style.
It is perfect for anyone who loves the taste of chocolate and graham crackers, or for anyone looking for a classic and delicious snack option.
This item ships for $4.99 or FREE for orders over $49