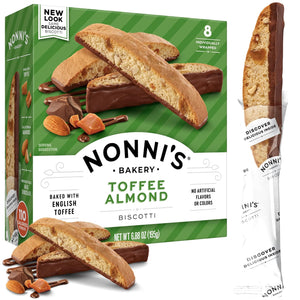 Nonni's Toffee Almond Biscotti Italian Cookies - 8 Count Box
NONNIS
The Ultimate Biscotti Cookie - A light crunchy cookie filled with English toffee bits, blended with the finest almonds. These delectable biscotti individually wrapped cookies are smothered in gourmet milk chocolate and packed with wholesome ingredients you love and trust.

Enjoy Our Italian biscotti cookies with Coffee - Now, you can savor the sweet, crunchy flavor of Nonni's toffee almond biscotti with your morning coffee. These individually wrapped Italian breakfast cookies make the perfect addition to your morning routine.

Perfect With Your Fave Cup of Coffee - Enjoy Nonni's toffee almond biscotti with your favorite espresso or coffee and find soothing comfort in trusted Italian traditions. You'll feel like you stepped right into Little Italy!

The Best Italian treats - Italian biscotti make the perfect treat for birthdays, housewarming parties, Christmas, and more. Create your own delectable biscotti treat basket and share the love of Italian traditions with your friends and family.

Wholesome Ingredients You Trust - When you try biscotti from Nonni's, you are trying from a global brand millions of people have come to love and trust. We don't use any artificial flavors and pack our biscotti cookies with high-quality ingredients in every bite.

Includes 1 box of Nonni's Toffee Biscotti. Each box contains 8 individually wrapped biscotti.
This item ships for $4.99 or FREE on orders over $49