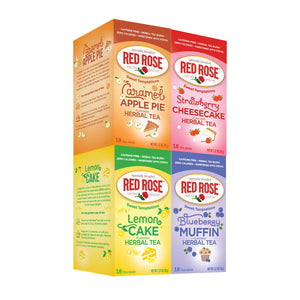 Red Rose Sweet Temptations Flavored Herbal Tea Bundle
Red Rose Tea
Regular price $20.99 Sale
Bursting with flavor, red Rose new naturally flavored Sweet Temptations teas are deliciously rich and contain zero calories — the definition of guilt-free indulgence! Enjoy the full assortment of flavors!
Al Red Rose Sweet Temptations teas are:
- Caffeine-free herbal tea
- ZERO calories
- Naturally flavored
- Lightly sweetened with Stevia
- 100% Natural. A Gluten-Free Food.
Bundle Includes:
Lemon Cake - 18 Count

Strawberry Cheesecake - 18 Count
Blueberry Muffin - 18 Count
Caramel Apple Pie - 18 Count
NUTRITION FACTS:
18 Servings Per Box 
Serving Size is 1 teabag 
0 Calories 
Total Fat 0g
Sodium 0g 
Total Carbohydrate 0g
Protein 0g 
Free U.S. Shipping on all Red Rose Tea orders!