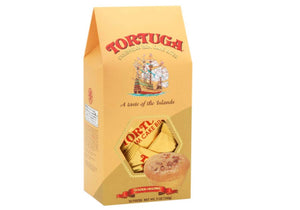 TORTUGA Gourmet Rum Cake Bites with Walnuts - 10 Count
Tortuga
Regular price $19.99 Sale
INCLUDES: Each bag contains 10 pieces of premium gourmet rum cake bites inside a giftable box. Bite-size cake balls that make an indulgent snack for yourself or to be shared with friends.

TORTUGA CARIBBEAN RUM CAKE BITES: Whether you're looking for personalized gourmet gifts for the rum cake lovers in your life or you're just looking for delicious gourmet cake rum balls, this will sure be a hit! Great for Cookies and Cakes, Holidays, and Parties.

FOR USE WITH: Pairing nicely with a scoop of vanilla ice cream, these moist delicacies come from a generations-old family recipe that brings authentic island flavor.

QUALITY: This is one of the best superior quality gourmet gift cake bites on the market today and probably the last cake bites you will need to ever try! Made fresh with love every day in Jamaica to ensure deliciousness.

FINEST INGREDIENTS: We use only the finest high-quality ingredients, including our specially blended oak barrel aged 5 year old Tortuga gold rum that is applied by hand.
Free U.S. Shipping on all Tortuga Orders!