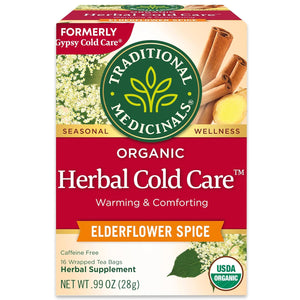 Traditional Medicinals Herbal Cold Care Elderflower Spice Tea Bags - 16 Count
Traditional Medicinals
This item ships for $4.99 or FREE with orders over $49
HERBAL POWER: Provides warm, soothing comfort when you need it most.

TASTE: Fragrant and minty with sweet and spicy notes.

PLANT STORY: Sustainably harvested elderflower from the pristine wild-collection areas of Europe and blended with yarrow and peppermint, our Gypsy Cold Care tea has made winter wellness only a cup away for over four decades.

USDA Certified Organic. Non-GMO Verified. Kosher. Caffeine Free. Certified B Corp.
*These statements have not been evaluated by the Food and Drug Administration. This product is not intended to diagnose, treat, cure, or prevent any disease.