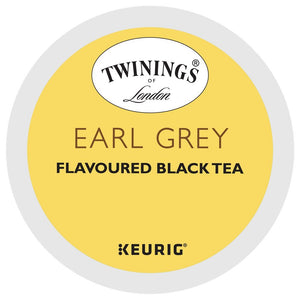 Twinings Earl Grey Black Tea Keurig K-Cups - 12 Count
Twinings
Save 10% when you buy at least 2 - Use Code Twinings at checkout
FRESH FLAVOR: Earl Grey tea K-Cups. Brighten up your day with the distinctive taste and aroma of this classic tea. Using a Keurig Brewer, press the 6-oz. or 8 oz. brew button for optimal flavor.

ONLY THE FINEST QUALITY: Our expert blenders source only the finest leaves cultivated to our exacting standards by trusted growers around the world. From these tea gardens we hand-select the leaves that will shape your next Twinings moment.

EARL GREY TEA: Fresh, fragrant and flavored with distinctive notes of citrus and bergamot, this Earl Grey tea has all the taste of the original.

HAND SELECTED FOR YOUR HOME: Made without artificial ingredients, Twinings natural teas provide a wholesome tea experience. If you enjoy Bigelow Tea, Lipton Tea, Harney & Sons Tea, Davidson's Tea, or Prince of Peace Tea - try Twining's of London Tea.

Each box contains 12 single serve K Cups.
$4.99 shipping on all Twinings tea orders. Free shipping over $49!