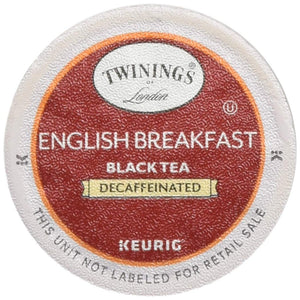 Twinings English Breakfast Decaf Black Tea Keurig K-Cups - 24 Count
Twinings
Regular price $14.99 Sale
FRESH FLAVOR: Decaf English Breakfast tea K-Cups. Fine black tea expertly selected from Kenya, Indonesia, Assam, Malawi and China. Using a Keurig Brewer, press the 6-oz. or 8 oz. brew button for optimal flavor.

ONLY THE FINEST QUALITY: Our expert blenders source only the finest leaves cultivated to our exacting standards by trusted growers around the world. From these tea gardens we hand-select the leaves that will shape your next Twinings moment.

ENGLISH BREAKFAST TEA: English Breakfast is our most popular tea. To create this well-balanced blend, we carefully select the finest teas from five different regions, each with its own unique characteristics.

HAND SELECTED FOR YOUR HOME: Made without artificial ingredients, Twinings natural teas provide a wholesome tea experience. 
This item ships for $4.99 or FREE on orders over $49