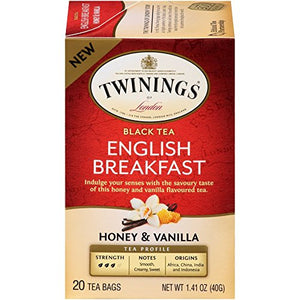 Twinings English Breakfast Honey Vanilla Black Tea Bags - 20 Count
Twinings
Save 10% when you buy at least 2 - Use Code Twinings at checkout
FRESH FLAVOR: English Breakfast Honey & Vanilla tea bags. A complex, full-bodied, lively cup of tea that is perfect any time of day. Steep for four minutes for the perfect cup of honey & vanilla tea.

ONLY THE FINEST QUALITY: Our expert blenders source only the finest leaves cultivated to our exacting standards by trusted growers around the world. From these tea gardens we hand-select the leaves that will shape your next Twinings moment.

ENGLISH BREAKFAST TEA: English Breakfast is our most popular tea. To create this well-balanced blend, we carefully select the finest teas from five different regions, each with its own unique characteristics.
Free U.S. Shipping on all orders!
Shop Our Entire Collection of Twinings Tea