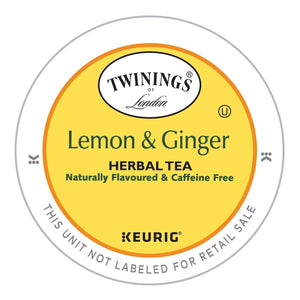 Twinings Lemon & Ginger Caffeine Free Herbal Tea K-Cups - 24 Count
Twinings
Regular price $13.99 Sale
FRESH FLAVOR: Lemon and Ginger Herbal Tea K-Cups. Herbal tea made with ginger root and lemon. Using a Keurig Brewer, press the 6 ounce or 8 ounce brew button for optimal flavor.
ONLY THE FINEST QUALITY: Our expert blenders source only the finest leaves cultivated to our exacting standards by trusted growers around the world.  From these tea gardens we hand-select the leaves that will shape your next Twinings moment.
LEMON AND GINGER TEA: The flavors of lemon and ginger have been invigorating the tea experience for hundreds of years. Today the expert blenders at Twinings have combined these two great flavors for lively and enjoyable herbal tea experience.
HAND SELECTED FOR YOUR HOME: Made without artificial ingredients, Twinings natural teas provide a wholesome tea experience.
Free U.S. Shipping on all Twinings Orders!