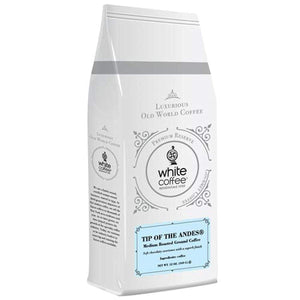 White Coffee Company Ground Coffee, Tip of The Andes - 12 Ounce
White Coffee Co
Regular price $10.99 Sale
White Coffee Company's Tip of the Andes Ground Coffee is a premium blend of 100% Arabica coffee beans that are carefully selected from the high-altitude farms of the Andes Mountains. This medium roast coffee has a rich, full-bodied flavor with notes of chocolate and nutty undertones, providing a satisfying and enjoyable drinking experience.
The beans are roasted in small batches to ensure the perfect balance of flavor and aroma. The coffee is then ground to a consistent medium-fine texture, which allows for optimal extraction during brewing.
This coffee is versatile and can be prepared using various brewing methods, such as drip coffee makers, French presses, or pour-over methods. It is also ideal for making espresso-based drinks like lattes, cappuccinos, and Americanos.
Free U.S. Shipping on All Coffee Orders!