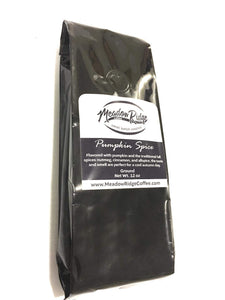 Meadow Ridge Coffee Pumpkin Spiced 100% Arabica Coffee, Medium Roast - 2.5 Lbs Ground
Meadow Ridge Coffee
Regular price $22.99 Sale
Meadow Ridge Coffee Our fresh roasted and carefully crafted ground coffee is something we take great pride in as a family run company. We use 100% Arabica coffee beans and do not include any fillers to ensure a delicious and consistent cup of coffee every time. Our expert roasters take great care to make sure each flavor taste exactly as you would expect when brewing. While you certainly can use creamer, we dont think you will need it!!!
100% Arabica Coffee Beans FRESH ROASTED in small batches. Immediately packaged to preserve freshness and taste!
Pumpkin Spice: Flavored with pumpkin and the traditional fall spices of nutmeg, cinnamon and allspice, the taste and smell are perfect for a cool autumn day.
All of our coffee is small batch roasted right here in the USA by our expect coffee roasters. Their experience and pride creates a delicious blend and flavor we know you will enjoy.
Our freshly ground coffee comes in easy to open and seal 2.5 pound bags.
When roasting in small batches you can ensure a consistent roast, flavor and blend every time so that each bag you purchase will taste exactly the same!